Accessories from Wax Bytes!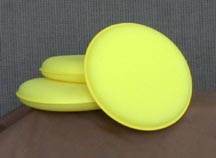 Wax Bytes #933 Applicator Pad -
$1.48 each
This four inch closed foam applicator pad allows the product to be applied evenly and thinly making removal easier!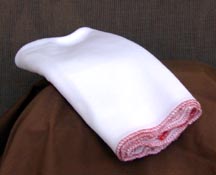 Wax Bytes #951 100% Cotton Cloths - (Currently Unavailable)
$9.60 per package (1 pkg = 6 each x $1.60)
These cloths are 100% cotton, right down to the thread used to bind the edges, so you can polish your finest investments without fear of scratching the finish. The bound edges prevent fraying to keep the surfaces practically lint-free. Each lot is tested by an independent laboratory for levels of chlorides and sulfur to guarantee safety. Three cloths per sealed package. The wax you use can only be as good as the cloth you use to remove it!



















Collinite Products are distributed by:
Wax Bytes
P. O. Box 673
Lake Jackson, Texas 77566
(979) 285-5635 - Mobile

For more information, contact us by e-mail at collinite@waxbytes.com.

---
Last modified June 21, 2017. Copyright © 2017 by Wax Bytes.

---