Collinite Corporation Wax Products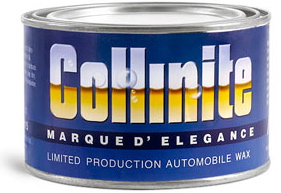 Collinite #915 Marque d'Elegance Wax -
$40.15, 12 oz. can *Sale! - Now $38.35!*
Automotive enthusiasts demand a wax proven to protect their classic, high-performance or collectible toys in demanding environments, rain or shine. They know Collinite's Marque d'Elegance is formulated from the purest concentration of Carnauba waxes. It protects every investment with a deep, lustrous shine that goes down deep to lubricate and feed expensive paint jobs. It's totally non-abrasive and clear coat safe.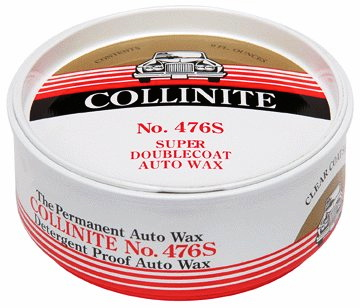 Collinite #476S Super Doublecoat Auto Wax -
$21.60, 9 oz. can
Easy to apply and absolutely detergent proof. Collinite Super Doublecoat is guaranteed to outlast and outshine any other competitive wax, polish or protective coating under any conceivable condition. That's why it's called the permanent wax. No hard rubbing or buffing, and no special applicator required. Collinite Super Doublecoat will last a full year, even under adverse conditions. Clear coat safe.









Collinite #845 Liquid Insulator Wax -
$20.00, 1 pint bottle
This heavy duty liquid wax was originally developed for use by electrical power companies for protection against high voltage power failure, fires and explosions. It's primary use is on finishes of automobiles, trucks, buses, golf carts, and aircraft where durability, high gloss and lasting protection are paramount. Excellent choice for fleet applications and very easy to use. Requires minimum rubbing or buffing. Clear coat safe.


















Collinite #850 Liquid Metal Wax -
$13.85, 1 pint bottle
The easy to use liquid metal wax cleans and protects chrome, aluminum (anodized, also), copper, brass and stainless steel in one easy step. Will safely remove rust and salt deposits while protecting golf cart, car, and truck metal finishes. Contains neither strong acid, nor harsh alkali.



















Collinite #855 Leather & Vinyl Wax -
$16.70, 1 pint bottle
Cleans, beautifies and protects leather and vinyl golf cart, automotive, and household upholstery in a single, easy operation. Leaves a high gloss with a protective coating against wear, deterioration, spills and oxidation. Can be easily cleaned with a damp cloth.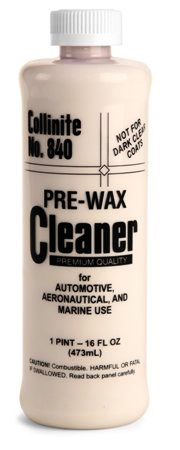 Collinite #840 Sapphire Prewax Cleaner -
$10.35, 1 pint bottle
Easily removes dirt, film, discoloration, oil, grease, tar, wax and bug stains from highly finished surfaces. Recommended for cleaning golf cart, automobile paint, chrome, and aluminum accessories. Also great for enameled, lacquered and varnished furniture as well as chrome fixtures and appliances. Not recommended for clear coats.
























Collinite Products are distributed by:
Wax Bytes
P. O. Box 673
Lake Jackson, Texas 77566
(979) 285-5635; Mobile

For more information, contact us by e-mail at collinite@waxbytes.com.

---
Last modified December 31, 2022. Copyright © 2023 by Wax Bytes.

---